A popular dice-based game of chance, Banca Francesa — literally translated as "French Bank" in Portuguese—has taken over casino tables in Portugal with the opportunity to win it big.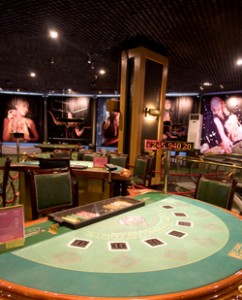 The game is played on a large semicircle table, similar to Baccarat or Punto Banco, while players choose to sit or stand around it. Unlike Baccarat, however, the players never touch the dice. At the bottom end of the table are three key people: el fiscal (the tax man), el pagado (the payer) and the dealer, who is colloquially referred to as "el cavalinho" (the horse).
The tax man and payer remain on either side of the dealer, and are responsible for collecting and dispersing all betting chips and money on the table. The dealer's job is to roll three dice that will either make or break your hopes for winning. All three dice are first shaken in a leather cup and then rolled down a corresponding tube, also leather, onto the table where a fabric bumper stops them.
The rules of betting are simple; so simple in fact that there are only three bets you can make:
• Grande (Big) – all three dice have to collectively total 14, 15 or 16.
• Pequeno (Small) – all three dice have to collectively total 5, 6 or 7.
• Ases (Aces) – all three dice must show 1, for a collective total of 3.
The dealer will continue to roll the dice until one of the above results is achieved. It can often take several attempts to show one of these numbers, and all players are free to change their respective bets in between rolls.
The payout rate for big and small bets is 1 to 1, while the payout rate for aces is a whopping 61 to 1! Before you go throwing down your hard-earned cash on the table, think about your odds. While both big and small bets only pay even money, you have a 49.2 percent chance of landing one of these results. But, if you want that big aces payout, you better hope Lady Luck is on your side as you only have a 1.6 percent chance of the dealer rolling those dice in your favor.
While currently unavailable in online casino betting, Banca Francesa has made its début in the European gambling scene. In addition to its native Portugal, the game has recently found popularity all over Macau and even Spain.
more Information on http://www.casinoseurope.com/banca-francesa-a-popular-portuguese-dice-game/